How often has your team missed an important message because it was buried in a barrage of emails? How many of us have ignored that little notification bell on our Salesforce homepage? It just makes sense that busy people require automation to boost productivity and efficiency throughout the course of their workday. When your employees work remotely, dependable, efficient communication becomes even more crucial. Fortunately, bringing information from where you do business to where you communicate has never been easier with improved options to integrate Salesforce and Slack. 
In this blog post, we will clear up some confusion about the native integration options, explore the benefits of integrating these two platforms, and provide insight on the updated app integration by Salesforce, along with how this can be done seamlessly without using a third-party integration. With the right Salesforce and Slack integration, you can give your business the competitive edge it needs.
Why Integrate in the First Place?
Salesforce offers a comprehensive introduction to the key aspects of Slack for those who are considering its adoption for the first time, highlighting how the combination of Salesforce's power and Slack's communication capabilities can deliver some quick wins for your organization, such as…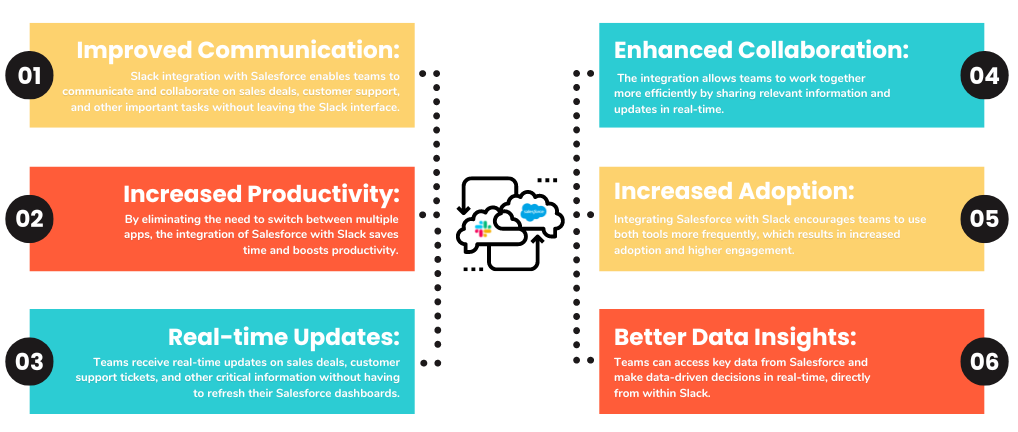 When it comes to integrating Salesforce and Slack, there has been some confusion around two of the native solutions that have been available. The most confusing thing to note has been the fact that the two native integrations for Salesforce and Slack have, in the past, both been referred to as "Salesforce for Slack" apps.
The first solution was built by Slack before the company was acquired by Salesforce, and it is listed on Salesforce AppExchange as Salesforce for Slack, and in the Slack app directory as Salesforce. While this app is still available (for now…) and can still be used, it's important to note that it's a legacy product that will be removed by the App Directory as the suite of Salesforce apps grows. After being acquired by Salesforce, Slack is no longer working on this app, which means it has limitations that won't be dealt with in the future. While those who currently use this product are not required to discontinue use or delete it right away, there is value in exploring other options as this product is no longer recommended for new installations. Because of this, it may be a good idea to start considering the migration process sooner than later.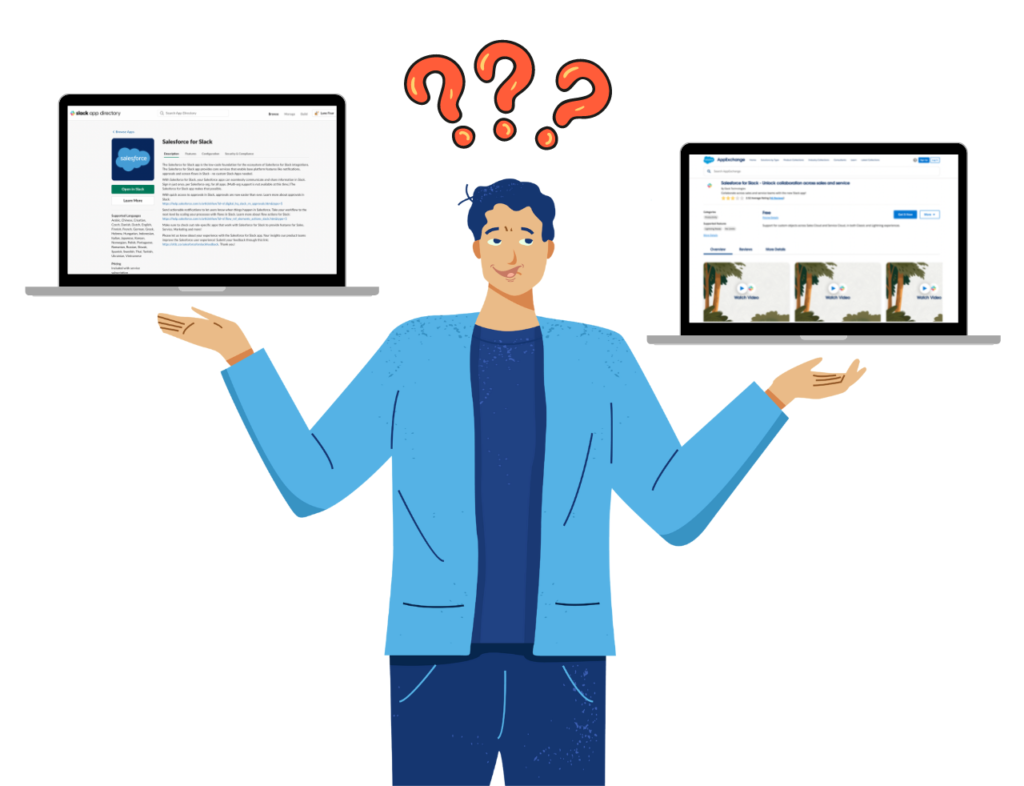 The second solution is a Slack app built by Salesforce. It is listed in the Slack app directory as Salesforce for Slack and provides the foundation for Salesforce's Slack Integration suite.  Salesforce has already made strides in integrating with Slack and although we can expect more improvements in the future, it's exciting to see what new updates they will release after the success of the current iteration! For instance, Salesforce has also built a few Salesforce Cloud-specific apps on the foundation of their initial Salesforce for Slack app. These are great options to consider if you need business unit-specific features, like being able to view your team's pipeline in Salesforce —through Sales Cloud for Slack, sending a message to a Salesforce Case —through Service Cloud for Slack, and sharing snapshots of dashboards or reports—through CRM Analytics for Slack). Salesforce released one such innovation last spring called Flow in Slack, which increases automation even further between the two platforms.
Flow in Slack by Salesforce is a feature that enables teams to further automate tasks and workflows between Salesforce and Slack. The integration enables users to create custom flows that automate specific processes, such as creating or updating records, sending notifications, and more, through two key tools: Screen Flows in Slack and Slack Actions. The real-time updates and notifications delivered by Flow in Slack help teams stay informed and make data-driven decisions directly from within Slack, without having to switch between multiple apps.
Like most things, the integration of Flow in Slack by Salesforce has both advantages and disadvantages, including: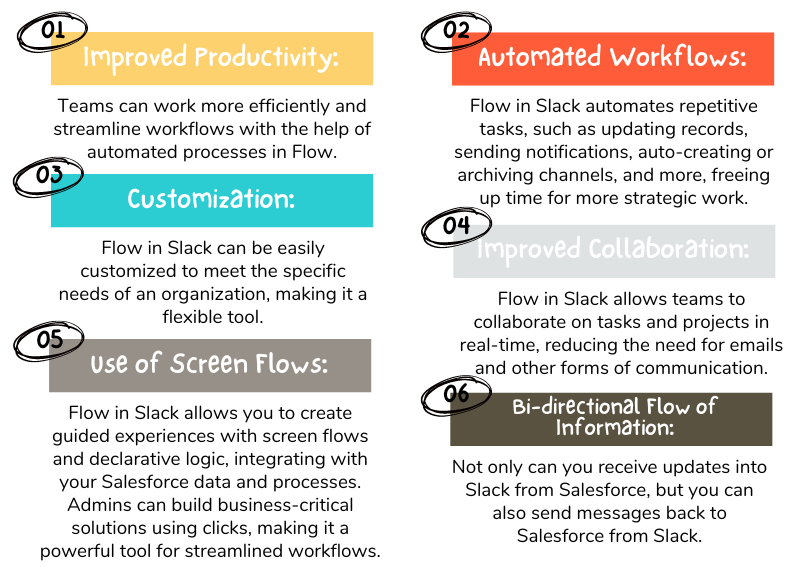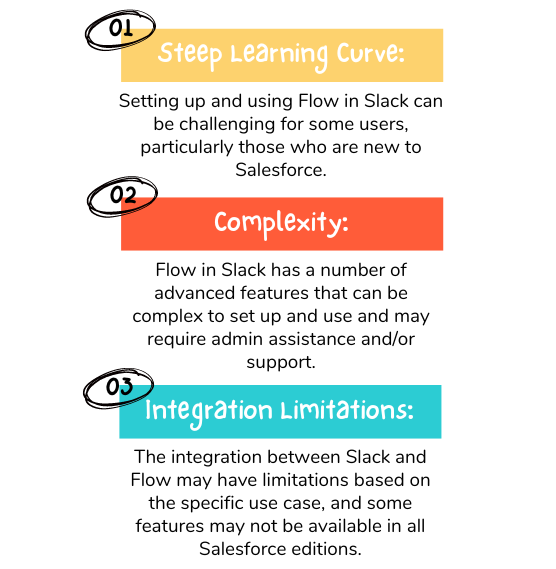 Traditionally, it was common for any customizations that required development work to come at a cost—someone typically needed to build it, and depending on requirements, that might have required significant time, money, as well as additional software tools to get the job done. However, the Apex SDK for Slack (beta) now allows developers to create apps that communicate with Salesforce data to and from Slack without the limitations or barriers like they used to!
Apex SDK for Slack (beta) gives you access to a set of development tools that make it simple and quick to create robust Slack apps on the Salesforce platform. The benefit of this option is that you can have (almost) anything your dreams desire, for example: the inclusion of a relevant meme with notifications of Opportunity stage changes, creating gamified points that are visible within Slack to represent employees' progress towards quotas, and/or many other smaller extensions and customizations to the notification behaviour of the standard apps that just aren't possible out-of-the-box. The Apex SDK for Slack provides a powerful and flexible framework for developers to build custom integrations between Salesforce and Slack so that they can do more with less. 
In order to decrease the likelihood that you miss an important message amongst the stack of emails and pings that come in on the daily and increasing efficiency between tools, connecting your primary CRM to your primary means of business communication is vital. If it hasn't been a priority already, it surely is worth thinking and getting excited about! With new updates to the Salesforce Integrations for Slack, businesses looking to transform the way they work should invest in taking the time to explore what the Salesforce Integration Suite has to offer and what the set-up might look like for your team. Whether you are looking to take advantage of the existing integrations between Salesforce and Slack or build custom integrations, the Salesforce Integration Suite provides the tools you need to achieve your goals.