Salesforce CPQ is a powerful tool that can help businesses streamline their sales process and improve the accuracy and efficiency of their quoting system. Some may be surprised to learn that Salesforce CPQ isn't just for large businesses with deep pockets. Despite the common misconception that Salesforce CPQ is only meant for large organizations and comes with a hefty price tag, we're here to dispel this myth. Salesforce CPQ is actually a flexible, customizable, and [can be] a cost-efficient tool. It caters to the needs of businesses of all sizes and industries by simplifying the sales process, improving accuracy, and enhancing the customer experience.
In this article, we'll be discussing the CPQ roadmap strategy, which can help businesses understand what a CPQ implementation may entail for their specific needs. Contrary to popular belief, you don't have to take on everything at once when implementing CPQ. In fact, we strongly advise against it. By carefully tailoring your implementation plan to your business needs, you can start small and still achieve great success. So, whether you're a small business or a large enterprise, we'll guide you through the steps you need to take to implement CPQ and achieve your goals by fitting the tool to your business needs.
Salesforce Configure, Price, and Quote (CPQ) is a native Salesforce sales software that automates the process of generating quotes, sending documents, creating contracts and ultimately renewals. It works in tandem with other business technology and ensures integrated data as well as accuracy. Quotes are automated according to a preconfigured set of rules, reducing errors and taking into account quantities, discounts, and customizations to increase accuracy and efficiency of the quoting process.
We are aware that making decisions to move forward with CPQ can be a little intimidating and scary to anyone new to the tool. We also know that an unnecessarily inflated scope and implementation process can add to these worries. To help alleviate some of these concerns, we've compiled a quick list of things we've heard and included our recommendations to these decision-making roadblocks, helping to make the process easier and less confusing. Need a little bit more clarity? Check out what Salesforce says about being ready for CPQ.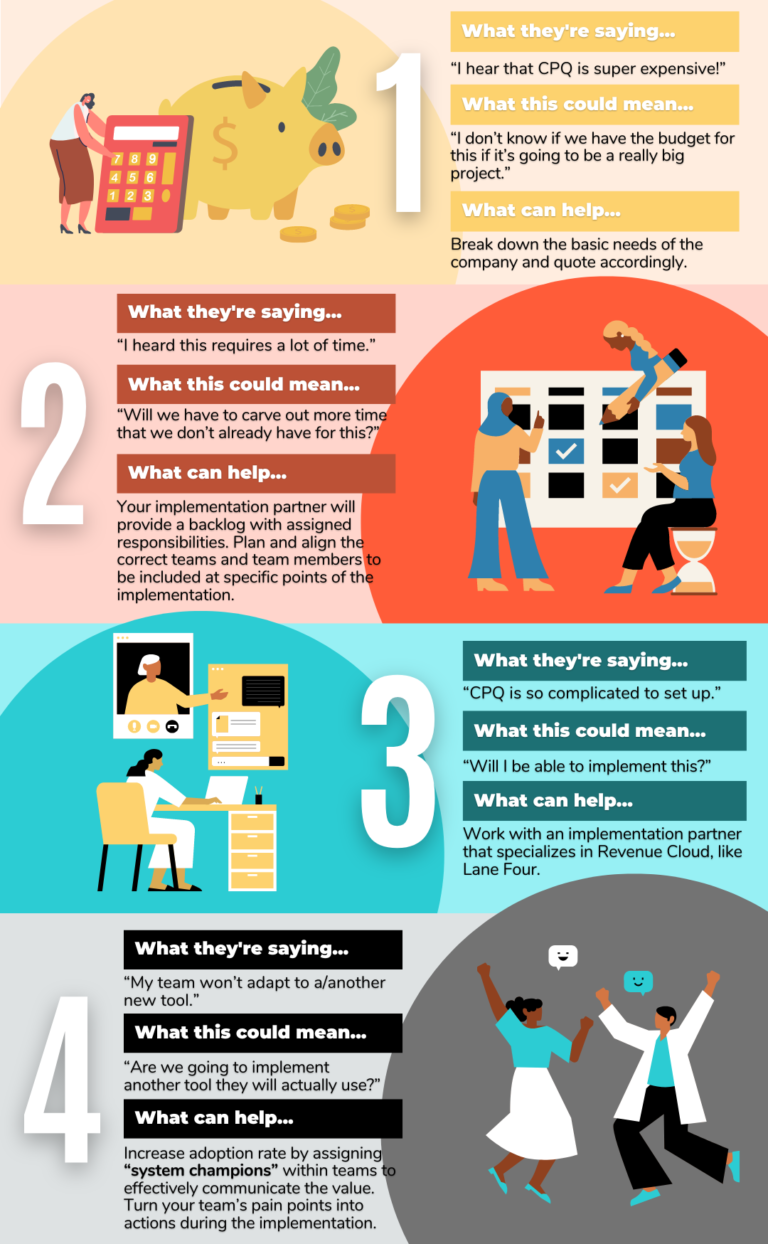 Unlocking the Potential of Salesforce CPQ
Salesforce CPQ is an invaluable tool that businesses can use to reap a multitude of benefits. For one, it helps reduce errors and ensures that the quotes your team generates are precise and reliable. Are you worried that sales professionals may offer prices too eagerly and lose their bearings? CPQ can help govern these practices. Additionally, the tool expedites the sales process by automating many of the laborious tasks involved in creating a quote. On top of that, Salesforce CPQ provides a vast range of analytics and reporting tools that enable you to gain valuable insights into your sales process and identify areas that need improvement. Overall, Salesforce CPQ is a game-changing solution that can help your business improve sales efficiency, drive revenue growth, and gain a competitive edge in the market.
The Roadmap: The clearer the path, the smoother the journey
Having a roadmap for implementing Salesforce CPQ is critical for a successful implementation. Outlining major project milestones will help you understand when to involve different team members so that you can determine the right timing and if a phased approach is necessary. A roadmap can also help you understand your involvement in the implementation and what your implementation partner requires of you. Additionally, if you decide to use a phased approach, mapping out different parts of the process will help you outline what specific tasks fall under each phase and ultimately, can help measure deliverables and ensure that everything is on track. The first mistake we've seen in the past – and have made the effort to deviate away from – is bloating the scope of the first phase of implementation, especially to potential buyers. As exciting as it can be to converse about a new tool, it could be easy to get too excited, too quickly, and before you know it, feeling too overwhelmed to move forward with the product!
At Lane Four, we break down the CPQ implementation roadmap further by grouping its components into "Core Buckets," which are essentially the most prevalent or usual issues that Salesforce CPQ can solve. These can then be categorized or grouped within different phases to break down the implementation into more manageable pieces. These buckets can help to better understand rules around pricing and quoting, automating metrics, document generation, and even full renewable cycles. Although the image below showcases numerous CPQ product options, it's essential to acknowledge that the majority of the deliverables are optional. Phase 1, as well as any subsequent stages will be tailored to the size and specific needs of the business. Make sure to keep an eye out for our CPQ Implementation white paper, where we dive deeper into each of these CPQ offerings.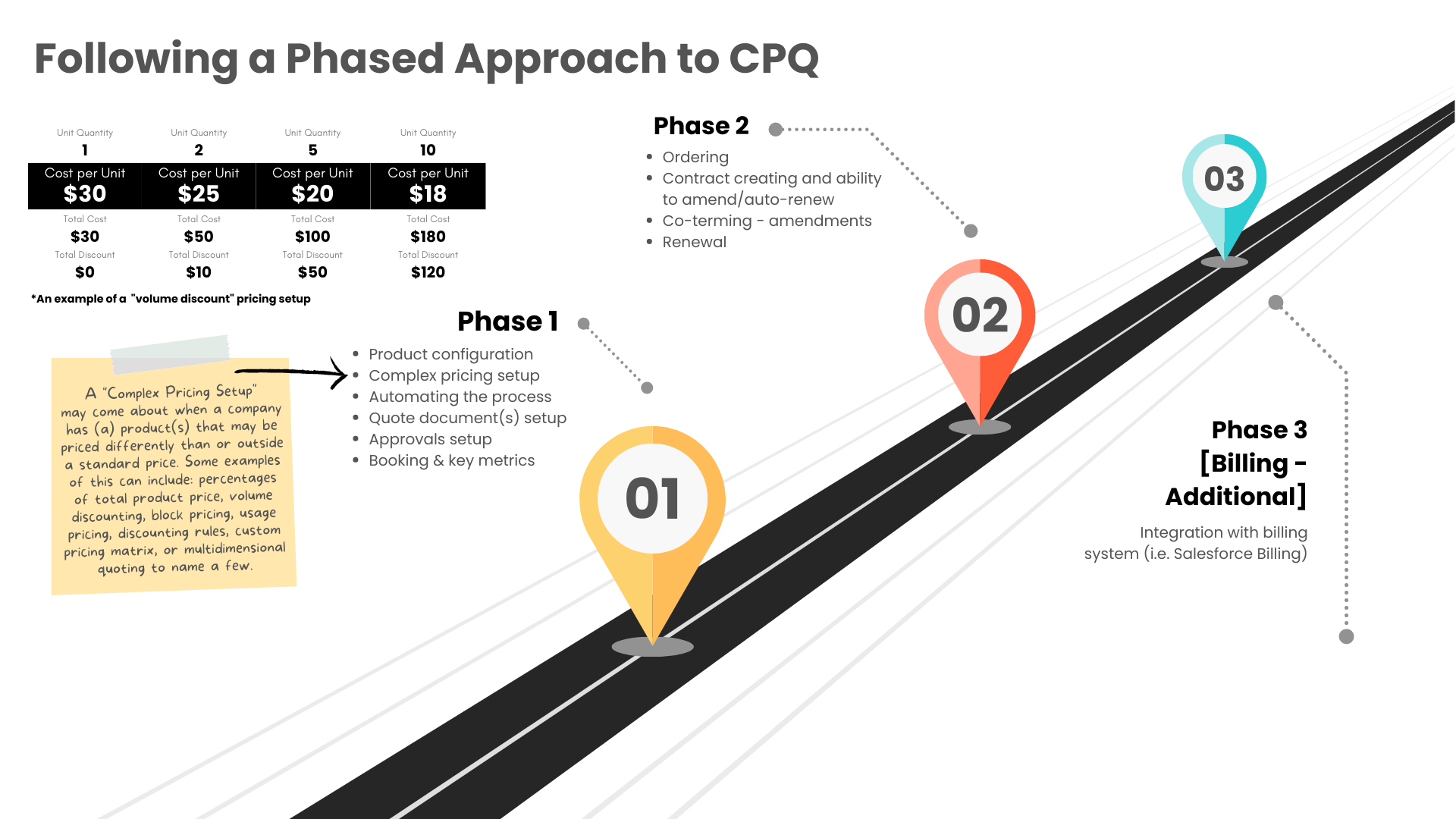 So now you have a long wishlist…this would be a good time to roll up your sleeves and start prioritizing. Implementing Salesforce CPQ requires careful planning and execution. What does the company and sales teams need versus what would be pretty cool later on can further be determined by tackling these key steps to implement Salesforce CPQ.
1. Define Your Requirements
Start by determining what you need from Salesforce CPQ. The more you invest in comprehensive planning, the more streamlined the rest of the project could be. What are your business goals? What features do you need? What are your pain points with your current sales process? What parts of your sales process are too timely? Consider involving key stakeholders in this process to ensure that everyone's needs are being met.
This is also where determining your minimum viable product, or MVP, will be helpful. The MVP helps to determine the key client-needs that are a must to go live. The MVP should target CPQ-specific configurations and setups to meet the client must-haves in relation to the core buckets. By focusing on the most crucial criteria that should be executed first, the MVP aims to narrow down the list of requirements. There are a few factors to consider while selecting the MVP with your implementation partner.
Firstly, prioritize the must-haves and ask the client what the primary goal of the implementation is. Secondly, determine the very least the client needs, and address the team's biggest pain points. Again, this helps to break down and sort the must-haves from the nice-to-haves and helps to clarify what to tackle first as well as alleviate some of the worry about tackling a massive scope. Finally, understand what current processes the implementation will affect. Keep in mind that when CPQ impacts a largely customized setup in Salesforce, clients may not choose to include it in the MVP as it becomes a larger project. Taking these things into consideration when selecting your MVP is key to a successful Salesforce CPQ implementation. Some of the typical MVPs we tend to see include product configuration, quote document generation, and/or quote approvals.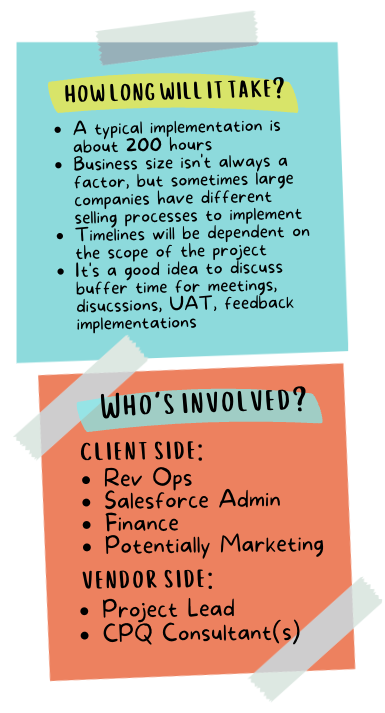 2. Tailor the Right Solution for Your Company
Once you've defined your requirements, it's time to fit the customized solution to the  Salesforce CPQ process with your implementation partner. This will involve determining which features you need, how you want your sales process to work, what client facing setup is required, and how you want your dashboard and metrics reporting to look. Consider creating mock-ups or prototypes to help you visualize the final product, using the Core Buckets we mentioned earlier as an outline to help stay organized.
3. Configure Salesforce CPQ
With your solution laid out, it's time to configure Salesforce CPQ to meet your needs. This will involve working closely with your implementation partner to set up your products and pricing, as well as configuring your sales workflows and rules.
Before rolling out Salesforce CPQ to your team, you'll need to thoroughly test the system to ensure that it's working as intended. We also recommend setting up time for QA tests throughout the configuration setup phase in order to allow for small fixes to happen along the way! The more tests you or your implementation partner can run throughout the setup process, the more confidence you will have that everything's running smoothly by the time you get to this stage of the implementation. 
Additionally, as with the implementation of any new technology, there will likely be a learning curve for your team members. They'll need to become familiar with and trained up on the CPQ system and its capabilities, as well as learn how to troubleshoot any issues that may arise. It's important that your team is ready to provide high-touch support to end users during this process.
Building a quote in Salesforce CPQ may seem a bit more of a complex process than what they're used to, but it's important to keep reminding your team that this is also an opportunity to streamline the business's sales process and increase efficiency. Overall, implementing Salesforce CPQ is a team effort. Your team's support and involvement will be crucial in ensuring a successful implementation, increasing user adoption, and maximizing the benefits of the system. Consider developing user guides, training videos, or assigning a designated CPQ champion within your team to expedite the learning process and facilitate effective communication of any updates or issues that may arise among the users. Knowing that they have a  dependable team member to turn to for on-going support enhances new users' ability to learn and adjust more efficiently.
Once you've tested the system and trained your team, it's time to roll out Salesforce CPQ. Be sure to monitor the system closely in the early days to ensure that everything is working as intended. You may also want to consider conducting a post-implementation review to identify any areas for improvement. Plan to schedule check-ins or office-hours with your implementation partners to communicate any issues that may arise.
The decision to purchase Salesforce CPQ may seem challenging, but the potential rewards make it a worthwhile investment. CPQ is a powerful tool and while it can seem overwhelming at first glance, it's important to remember that this is a long-term investment in your business. Don't let the idea of a project scope seem too monstrous and the challenge of an implementation process discourage you. It's best to break down your wants and needs into manageable pieces and tackle each one in a prioritized manner. With strategic planning, careful execution, and expert implementation partners by your side every step of the way, you can make sure you get the most out of your Salesforce CPQ purchase.

We interviewed Tatiane Sensini, a highly accomplished technology professional, currently serving as the Director of Revenue Cloud and Strategic Projects at Lane Four. Tatiane, or "Tati" as her friends and colleagues like to call her, has been an integral part of Lane Four and established the Revenue Cloud team within the company  in 2020. With her deep expertise in Salesforce technology and her strong project management skills, Tatiane has been instrumental in helping Lane Four's clients achieve their revenue goals and drive business success. When she's not working through projects, mentoring and collaborating with others on the team, or frolicking the streets of Toronto, you can likely find her exploring new restaurants, walking her pup, or taking in the Florida sun, where she spent much of her life growing up!