"Which CRM should we use?" is a question we hear more often than Mariah Carey on repeat during the holiday season. There are several CRM tools to consider, but it makes sense to start by talking about two market leaders. Many businesses struggle with the decision of whether to use HubSpot or Salesforce as their CRM. To get the most out of both platforms, we're stepping in to help you understand why and when a switch from HubSpot to Salesforce can be beneficial to your business!
What we aren't aiming to do in this post is pit two big name platforms against one another in a showdown with only one coming up on top. What this post IS aiming to accomplish is provide insight on how a shift from HubSpot to Salesforce can help your team save time, effort, and headaches down the road – something we're almost certain you'd want for your team too.
We interviewed Sr. RevOps Manager Meg Diplock on the HubSpot to Salesforce topic, digging into the benefits as well as importance of timing. With extensive experience with both platforms, Meg enjoys working with HubSpot and believes the platform has a time and place in the lifecycle of a business. HubSpot's devotion to keeping the platform easy-to-use makes it the go-to system for businesses with smaller teams of admins, reps, and managers who want to keep things simple and accessible for everyone. However, it's important to know when making a move from HubSpot to Salesforce might be the right call.
HubSpot
HubSpot's Marketing Automation Solutions were its original focus and remain its most well-known offering. The platform now offers a wide selection of SaaS solutions geared more toward your typical CRM set up, for every facet of go-to-market strategy. HubSpot is highly reputed by administrators and end users alike since it combines robust capabilities with simple UX. HubSpot's plans provide more comprehensive marketing capabilities that work for companies looking for an all-in-one sales and
marketing platform.
Salesforce
Salesforce is a powerful CRM platform that helps both small businesses and large enterprises. It accommodates different  organizational functions and activities, and gives users a single customer view across various departments. All of these services enable companies to utilize cutting-edge technology, identify new clients, and offer a superior customer experience. However, because Salesforce is a complex platform, it may present a steeper learning curve and require more admin resources or a bigger budget to get systems working together.
Switching CRMs comes with caveats—but change can be a good thing when the benefits are worth it in the end. Let's delve into the various reasons why moving to Salesforce can greatly help an organization. When asked what might prompt a business to shift from HubSpot to the Salesforce platform, Meg stated that the two major indicators were revenue generation and the increasing need for customizability. We dig into the deets below…
The decision to move from HubSpot to Salesforce is not a light one to make by any means, however, "it can be worth it if the timing of the business is right," says Meg. For smaller companies starting out in the market and laying the foundation for their technology stack, HubSpot's intuitive and simpler navigation would suffice. As well, consistently staying below a certain revenue line may be enough reason to stick with the HubSpot CRM. Based on what Meg has seen, if your company is bringing in new people and new business, you might be well on your way to outgrowing the HubSpot system. Some specific indicators for this growth could be:
A major raise of funding—meaning there's demand for more operational standards

Needing to expand system adoption to teams outside of Sales and Marketing

The expanded use of MarTech, Sales team tools, and other Ops technologies

Integration to financial tools

Defined deal standards using CPQ
As companies scale, maybe Sales and Marketing are no longer the only teams in the CRM. A company may potentially want Customer Success, Finance or Support departments to start adopting the CRM. While HubSpot may be able to manage some functionalities outside of sales and marketing, the platform is limited when it comes to the overall post-sale process, which we'll dig into later on. On the other hand,  Salesforce can be built for smooth transitions and handoffs to other departments while also leveraging a wide range of integrations that take these functionalities to the next level. HubSpot offers Marketing Hub, Sales Hub, CMS Hub, Operations Hub and Service Hub to help some of these post-sale departments, but these "Hubs" come with an increase in your subscription.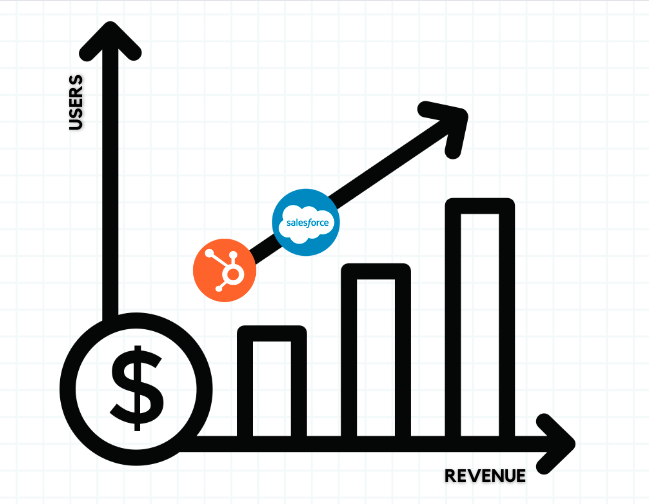 So what can Salesforce really do for your company?
Control Over Your Sales Cycle
A well-built sales process—supported by the right technology—can make it easier to forecast revenue, train new reps and create a scalable growth strategy. Building certain rules in Salesforce can enforce specific behaviours at each stage of the sales cycle. Because HubSpot is limited in the creation of these rules, you have less control over granular parts of the system. The more control you have, the more accurate your sales cycle, leading to greater efficiency, effectiveness, and overall user adoption. There are many more ways to create airtight processes in Salesforce which help to reduce the risk of reps straying from the path. This can include approval processes to lock records at certain discount levels, requiring specific fields to be populated at each stage, and even automations to kick-off other workflows throughout the sales cycle.
HubSpot makes it easy to add, subtract, divide, multiply and take the min, max, sum, count, average and time between standard and custom fields. It's very possible to get many of the standard metrics that you are looking to calculate using their custom calculation properties. However, you might find yourself hitting a wall when trying to concatenate a text string, have nested "IF" criteria or even try to use different property types in the same equation (ie. converting a date field to a text or a number if needed). When you need to manipulate your data in a more complex way, it might be time to switch to Salesforce.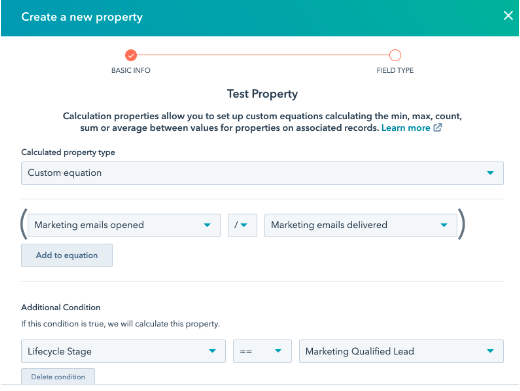 Advanced Reporting and Analytics
Both tools can and do assist large organizations, but many favour Salesforce because of its more sophisticated reporting features. HubSpot has made progress with their available reports, however they still seem to be trailing behind Salesforce and can only take you so far in terms of advanced analytics, due to their limited reporting functionality. While HubSpot can provide great Marketing reports, when it comes to truly customizable data, Salesforce is able to provide many more options. 
With HubSpot, most users will use external tools to create custom-built reports. On the other hand, Salesforce allows all of these actions and insights to live within the system itself, and even offers Salesforce Analytics, an in-house BI tool. Features like formula fields, custom objects and advanced automations allow for stronger data insights and therefore better reporting, features that are either not yet available in HubSpot or require an upgraded subscription.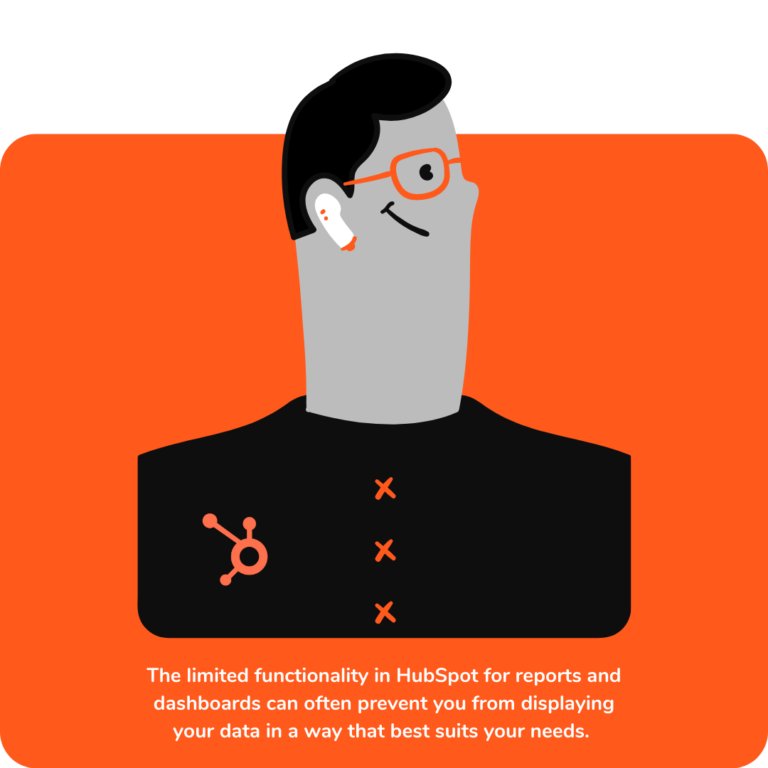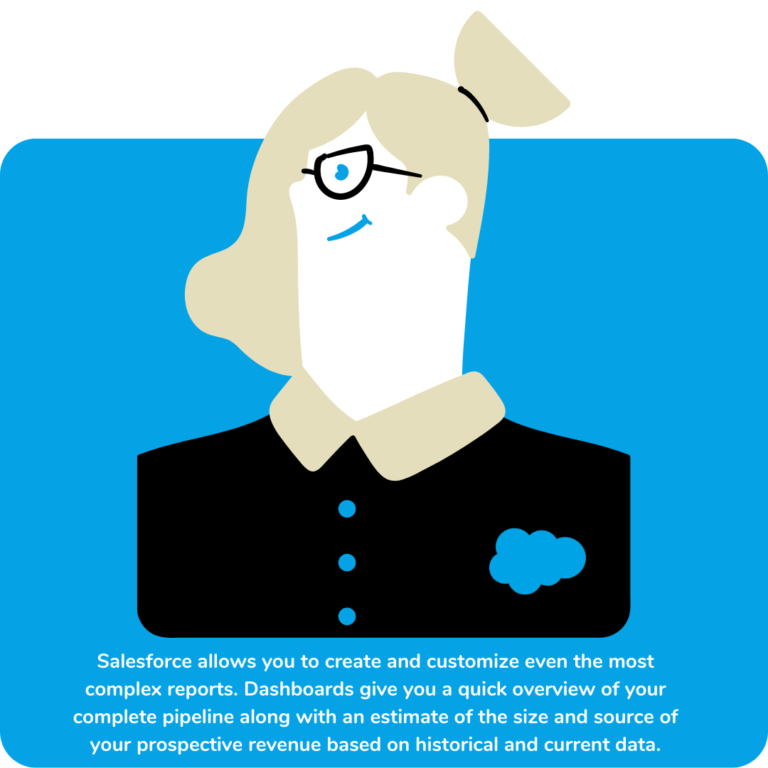 When it comes to reporting, HubSpot has fantastic templates for all of your marketing reporting needs. The system actually allows you to handle funnel tracking, attribution, customer journey, and various custom reports as well. Operating as a marketing-heavy platform, these reports will get you quite far. Reporting in HubSpot only becomes a challenge when you are looking to expand on data that requires a bit more customization. Take Funnel tracking for example; HubSpot provides you with standard Lifecycle stages – Subscriber, Lead, Marketing Qualified Lead, Sales Qualified Lead, Opportunity, Customer, Evangelist and Other. If, however, you want to take this a step further and also add in lead stages to track when a contact is being 'Worked', 'Nurtured', or needs a 'Follow-Up', your ability to manage funnel tracking is no longer available since you have stepped outside of the standard HubSpot Lifecycle stages. As shown in the screenshots below, your only option in configuring a funnel is to use the predefined Lifecycle stages.
Advanced UI Customizations
While many suggest HubSpot is more intuitive and easier to learn and use compared to Salesforce, this might actually be what limits the platform's ability to deliver more customizable options. Lightning pages in Salesforce allow you to completely customize the way each object's data is displayed. In HubSpot, you only have control over which data is visible on the Cards and Sidebar.
Salesforce also allows for various page layouts across objects and record types. Different teams can see different layouts depending on their profile and visibility settings. Plus, within Visualforce pages, you have the ability to manipulate layouts, include widgets from other applications directly on your Salesforce page, and even use custom colours and brand your instance to fit your company.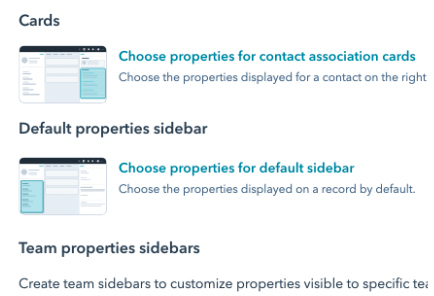 Security, Roles and Profiles
Meg has found that when your CRM is only being used by Sales and Marketing, there may not be much concern around security or roles. However, when you start to add other teams such as Customer Success, Finance, Support, etc., it becomes a priority to be able to control who can view various records, make edits, and even delete certain records. Salesforce gives you much more control over governance which is especially crucial for larger organizations.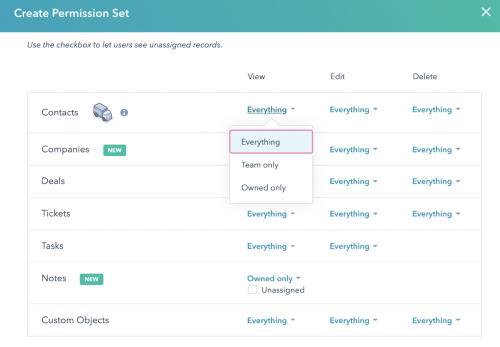 To the left, you can see that HubSpot allows you to create various permission sets to assign to users. You can choose if users should have permissions to View, Edit and Delete records from each object. Where you start to lose functionality is when you want to set restrictions in a very granular way. For example, if you want to restrict certain users from modifying page layouts and custom components. In the image shown, your only options are to restrict by "Everything", "Team only", or "Owned only". Permissions have gotten tighter in HubSpot, but not as granular as Salesforce's offerings.
It's also valuable for a company to determine how they'll be managing certain post-sale processes such as Customer Success, Client onboarding, and Technical Support. HubSpot has some functionality in place to handle these scenarios, but what a company is able to do in the HubSpot platform is very limited outside of the general sales and marketing process in comparison to Salesforce.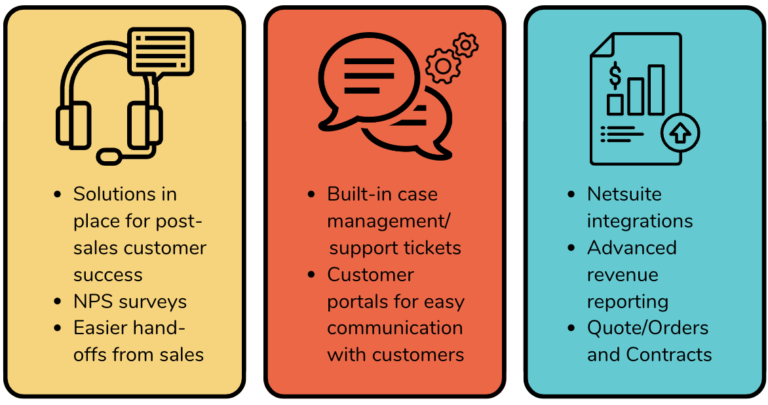 HubSpot's current offerings provide comprehensive capabilities that work for companies looking for an all-in-one sales and marketing platform. And unlike Salesforce, these functionalities are offered in product bundles rather than as single, potentially separately-paid solutions. However, the Salesforce AppExchange has thousands of apps that can be instantly downloaded to your org to help solve your business challenges. An organization that has experienced substantial growth will eventually run into the need for additional apps to help with lead management and routing, sales engagement, sales coaching, advanced analytics, advanced pricing/quoting and more. All of the leading apps in each of these categories are available on the AppExchange and integrate directly and seamlessly with Salesforce.
So we've stated the 'WHY'; Now, let's dig into the 'WHEN'
The simple answer is, "the sooner, the better" and here's why…
It's important for a company to choose a CRM for growth earlier on so that it can scale with the business. We know that change management can be challenging when switching CRMs, however Meg shares some helpful tips to ease the migration process.
Even if the current CRM is only being used by Sales and Marketing departments, as stated earlier, there will come a time where you will need departments like Customer Success, Finance or Support to have access to your CRM. So, the sooner you can shift, the better. The biggest challenge with the migration process, according to Meg, comes about when a company still wants to use HubSpot as a marketing tool in tandem with the Salesforce CRM and expects both systems to become an exact mirror of one another. To date, it's proven to be difficult to get all HubSpot data into Salesforce without record duplication, loss of some data, or loss of object relationships. This becomes even more difficult to do with large volumes of data. There doesn't appear to be a great solution for getting this data across both systems in a seamless way, without drastically altering the integrity of at least one of your systems. Using HubSpot as your marketing automation platform in tandem with Salesforce as your CRM is completely fine, says Meg, however she adds caution to those who are expecting to still use HubSpot as a full CRM. All the more reason to migrate to Salesforce sooner rather than later!
Some Considerations Before Switching from
HubSpot to Salesforce
What parts of the processes are staying the same and what parts are changing?

Who owns which records and how will these be routed? (ie. Round Robin?)

Which data is moving over and will a data cleanup be necessary before moving into Salesforce?

What types of insights/reports would you like visibility into? Are there any insights you don't have visibility into right now?

Which users will need a Salesforce license? Who will remain in HubSpot (if at all)?

Who should have access to what? How much red tape should be added into the system?

If continuing to use HubSpot as your marketing platform, how will data be passed between the systems?
At the end of the day, the choice to switch over can ultimately be dependent on size and timing of the business, but may also be based on which price framework is better aligned with a company's budget. Again, knowing when the time is right for the business to switch over to Salesforce is a critical factor here. While HubSpot thrives in marketing its 'Free Plan', in order to take advantage of any advanced CRM tools, you will need to upgrade to a paid plan to access these features. Salesforce may be on the pricier end, however because of its pay-per-user structure, companies can pick and choose features to add as they go. This is a plus when it comes to accessibility and efficiency!
Like we stated earlier, this post was not meant to claim that the switch from one industry giant to the other is an absolute must for each and every company. Don't get us wrong, there is a reason HubSpot has been and continues to be a market leader. The platform's simple-to-use functionalities, historically low cost, and available reporting could be just what your company needs as a well-built sales and marketing tool and CRM. However, if and when your company growth reaches a certain point, it might just make sense to invest in a platform that allows customizability, advanced features, and more progressive analytics.
At Lane Four, we enjoy working with both systems and continue to provide services to companies of different scale. Hopefully, we were able to provide you with some helpful insight so that you and your company can decide which CRM works best for your business. We also know it might not make sense choosing a platform that offers super-cool functionalities, if your team's unclear on how to use it to its full potential. Contact us or Book a Meeting to talk about how we can help! 
Want to learn more about the HubSpot to Salesforce topic? Be on the lookout for our white paper that we will be releasing soon.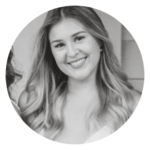 We've interviewed Meg Diplock, a Sr. RevOps Manager at Lane Four, who is passionate about all things tech, business, performance management and analytics. Meg has done it all – she's worked as an SDR, gotten her feet wet in the world of Marketing and Sales, had a big hand in Enablement and Leadership, and has worked in various Operations/Analytics roles across top-performing companies. She thrives in fast-paced and challenging work and is always pushing herself and her team to step out of their comfort zones to grow in a positive way, while always providing support when needed. In her current role, Meg is primarily responsible for account management, leading a team of admins and consultants, and delivering effective operations strategies and high-quality services that help her high-growth clients scale with different tools.