Activity reporting has long been the go-to method for measuring sales engagement activity in Salesforce. But until recently, it was almost impossible to generate accurate engagement metrics this way. Luckily, sales engagement platforms like Outreach have completely changed the game for activity reporting.
Before, we had to rely on sales reps to manually enter tasks and events into Salesforce. Now, engagement metrics flow directly into Salesforce from platform integrations with zero effort from reps. Instead of patchy, self-reported numbers, we now have numbers in Salesforce that directly reflect rep activity.
This new setup makes it possible to finally build activity reports that are reliable, meaningful, and actionable. But it's critical to take a couple of extra steps to build relevant activity reports for an account-based landscape.
Here are a few considerations that will help you get the best possible account-based activity reports from Salesforce.
Understand How Account-Based Activity Reports Differ
There are a few ways to look at engagement metrics via activity reporting. The simplest approach is to look at pure volume metrics. For example, the raw number of connects, calls, replies, and clicks occurring. Volume metrics are helpful for things like compensation and simple predictive conversion metrics, but they're simplistic.
Slightly more sophisticated, prospect-based activity reports break down task and event metrics by person. This allows you to look at activities on specific individuals, titles, or roles to determine who you're engaging and whether they're worthwhile. Prospect-based reports can also consider things like last engagement date and last relevant engagement date to determine relevance.
Today, account-based activity reporting is by far the most important kind. Modern sales teams are tightly focused on account activity, so account level metrics are crucial. Common account-level metrics include coverage rate, demos booked on target accounts, demos completed on target accounts, target account conversions, qualified opportunities at target accounts, and conversions from demo. Remember that account-based metrics typically need to be time-bound in order to be useful (based on the date an account became a target).
The best rule to follow when determining what kind of account-based engagement metrics you need is to ask yourself one key question. What actions are you trying to drive? If you correlate your metrics with your answer, you'll be in good shape.
Beware of Multiple Objects for Account-Based Engagement Reporting
Account-based reporting depends entirely on information aggregated at the account level. This means that any information you'd normally be pulling from the lead object—as you would for prospect-based engagement reports—won't be accessible. This is why so many companies are turning to lead-to-account matching solutions to bridge the gap. This is also why we advocate for a contact-only assignment model for sales, and reserving leads for inbound marketing prospects.
Remember that any activity information you want to report on at the account level must be associated with the account object. In an account-based organization, it's critical to use this fact as a guiding principle for your processes and data model.
Avoid Salesforce Features that Impact Activity Logging

Whether you're generating engagement metrics at the volume, prospect, or account level, there are some Salesforce limitations to be aware of. In particular, two new features throw a wrench into activity reporting:
Enhanced Email Feature. This feature aims to provide users with new email functionality, including the ability to "relate emails to other records, add custom fields to emails, use triggers with emails" and more. Unfortunately, it does not create tasks. Beware: this feature is automatically enabled for most Salesforce orgs, so you will need to disable it to prevent gaps in your reporting.
Einstein Activity Capture. This feature syncs your calendar with Salesforce—automatically adding emails and events to the activity timeline of related Salesforce records. But it does not create tasks from these emails.
If you intend to rely on task and event reporting, you may want to avoid these features. Alternatively, you can look to third party tools to record email activities as tasks.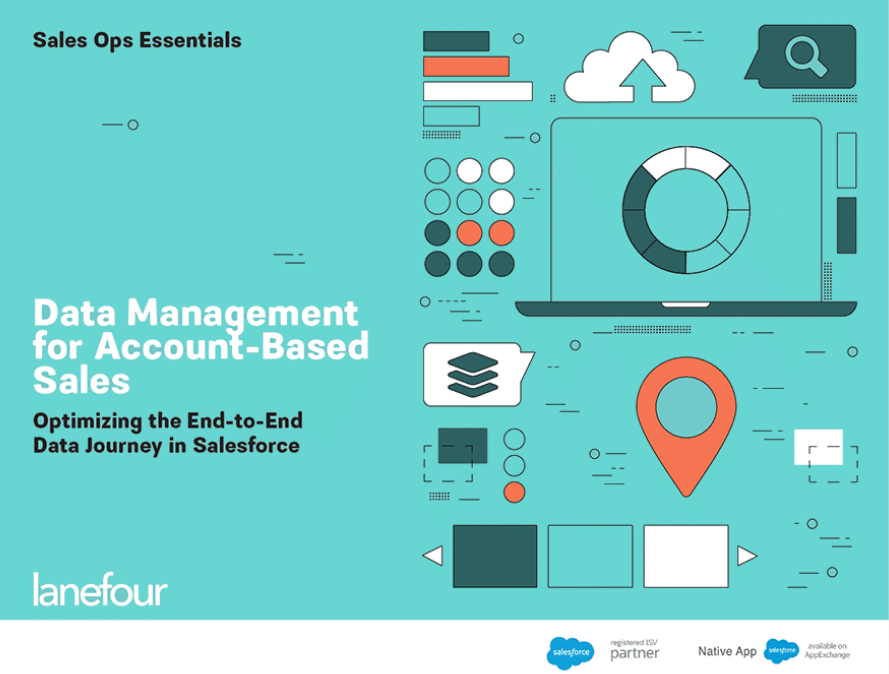 Data Management for Account-Based Sales