Why Go With Lane Four Highroad vs LeanData?
See why high-growth companies choose Lane Four Highroad for lead assignments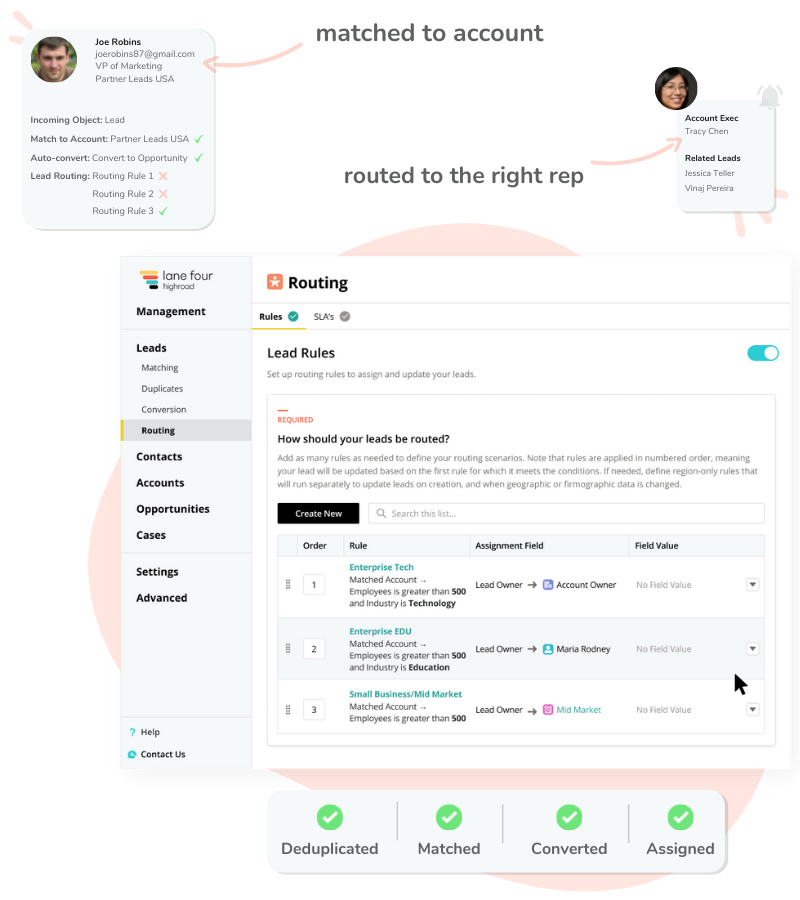 First things first…hats off to the team at LeanData
They built a great product that helped businesses navigate a chaotic lead routing system. We've accomplished the same with Highroad, but with an easier setup, growth-friendly pricing, and a team that puts your business success first.
With Highroad, our goal is also to remove friction in your sales process. Mishandled prospects, poor customer experiences and lost opportunities belong in the past. Highroad will match leads to your accounts in Salesforce so you can take action based on existing relationships, key account data, and other critical sales contexts.
If you're looking for a LeanData alternative, keep scrolling to learn more about Highroad.
The trusted alternative to LeanData - check out some of our Highroad customers!
See Lane Four Highroad in Action
What our sales team and customers have to say
We asked our team and customers to weigh in on why companies choose Highroad over LeanData.

Here's what they have to say:
Grow your team without breaking the bank. Our pricing is designed to help you scale your team without worrying about substantial costs. We have no limits on the number of admin users and offer all features on all plans.
Hands-On Approach to Onboarding
Customers LOVE our award-winning customer support team. People rave about them in G2 reviews - and for good reason. They go above and beyond. On top of helping you get the most out of Highroad, they'll even share advice on areas outside our product's scope so that your revenue process is fully optimized.
One-Click / No-Code Custom Object Routing
We've taken the work out of custom object routing. Some platforms require custom apex codes and support from Salesforce admins and developers for each object creation or change. With Lane Four Highroad, you can set up custom object routing with just one click.
Agnostic Availability-Based Routing
We have availability features - and you don't need a native calendar application to leverage them! In addition, one of our most unique availability offerings is our LiveClaim feature, where Highroad can automatically send a "Claim" alert to a group of reps, enabling them to take immediate action on leads.
See Lane Four Highroad in Action
Lane Four Highroad vs LeanData Comparison Chart
Looking for a side-by-side comparison? We've got you covered.
| | | |
| --- | --- | --- |
| | | |
| | | |
| | | |
| | | |
| | | |
| Multi-object matching and routing | | |
| Advanced territory management | | |
| | | |
| | | |
| | | |
| | | |
| All features on all plans | | |
| No data caps or load fees | | |
| Pricing buckets to help growing orgs | | |
| | | |
| | | |
Hands-on implementation and support to help your team win

We have been really blown away by Lane Four. Setting up lead routing is SUPER simple and we were able to set up in minutes. The attention after purchase has been amazing - they really want us to succed.
Director of Revenue Operations
Perkbox

Lane Four is like the Swiss Army knife of lead routing. It became a no-brainer once we realized how many use cases Lane Four could quickly solve.

Revenue Ops Lead
OnFleet
LeanData pricing: Lane Four Highroad is up to 5x more affordable
Lane Four Highroad uses pricing buckets that are designed to help you grow your team without increasing costs.  Scaling a revenue team comes with a lot of growing pains. Your software costs shouldn't be one of them. 
LeanData's pricing penalizes you for success by increasing your costs for every new user. The more your team grows, the more you pay. They also add on data load fees that increase with the size of your database. To make things worse, you can't even access all of their features on some plans.
Lane Four Highroad's pricing is simple and transparent. You'll always know what you're paying and you can easily grow your team without worrying about costs. You'll also have access to all of our features – no matter your size or budget. We're here for you. From startup, to scaleup, to unicorn!
Up to 15 Users
All Features
Up to 40 Users
All Features
Up to 100 Users
All Features
The LeanData alternative for high-growth teams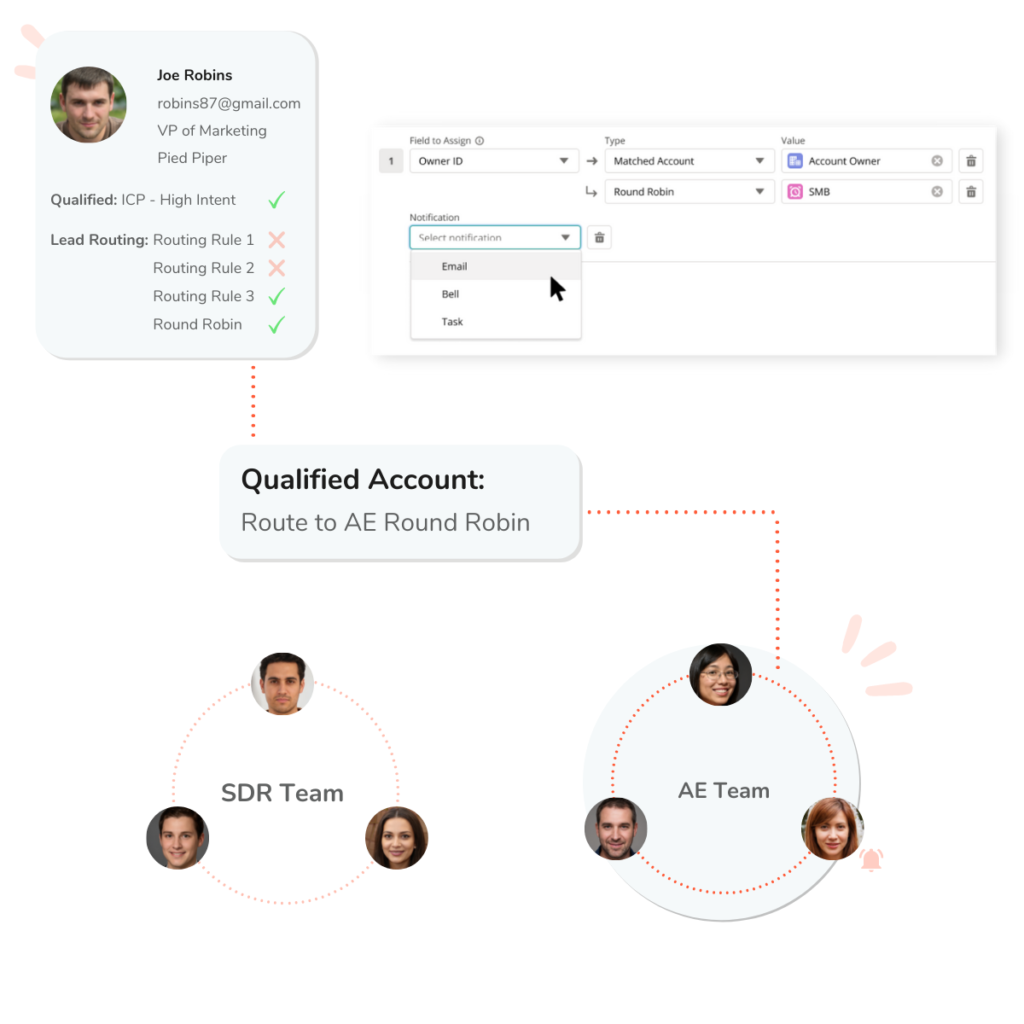 Assign leads and opportunities with speed and accuracy
Automatically assign Salesforce leads, accounts, and opportunities using custom rules and round robins that work with your existing sales process.
Custom lead-to-account matching for every business case
Create custom rules that can deduplicate, match, qualify, and auto-convert Salesforce objects the way you want.
Match leads to the right accounts
Match multiple leads from the same company to just one sales rep
Match leads that belong to open opportunities to the existing AE
Match leads from existing customers to their Account Manager or CSR
Plus more…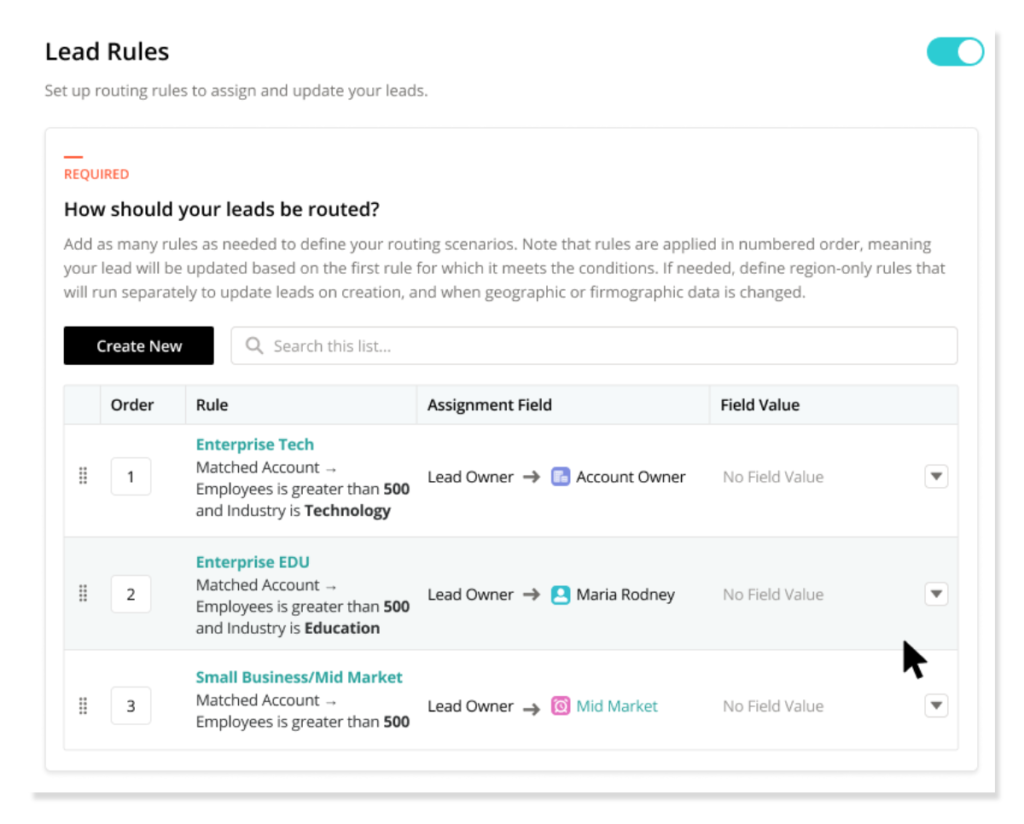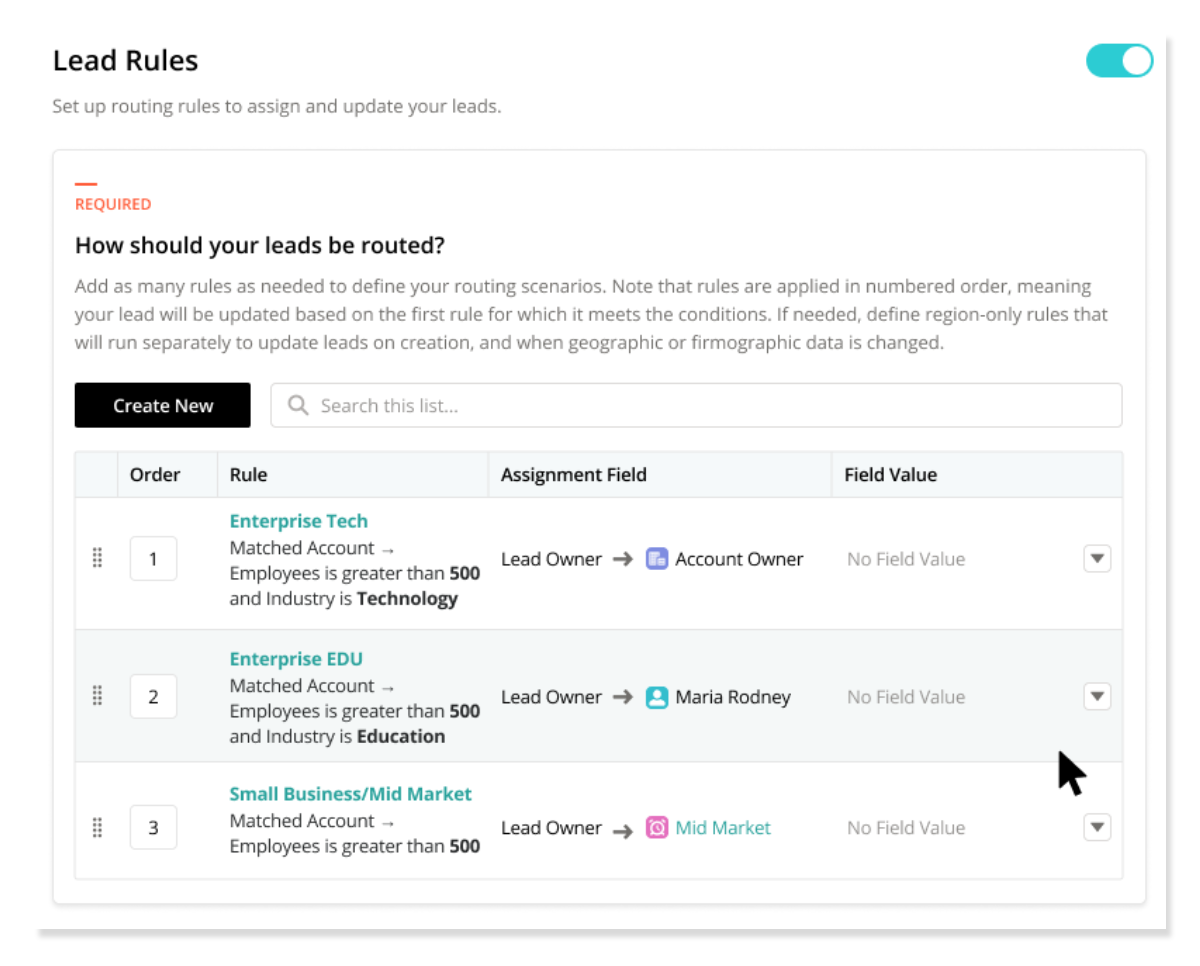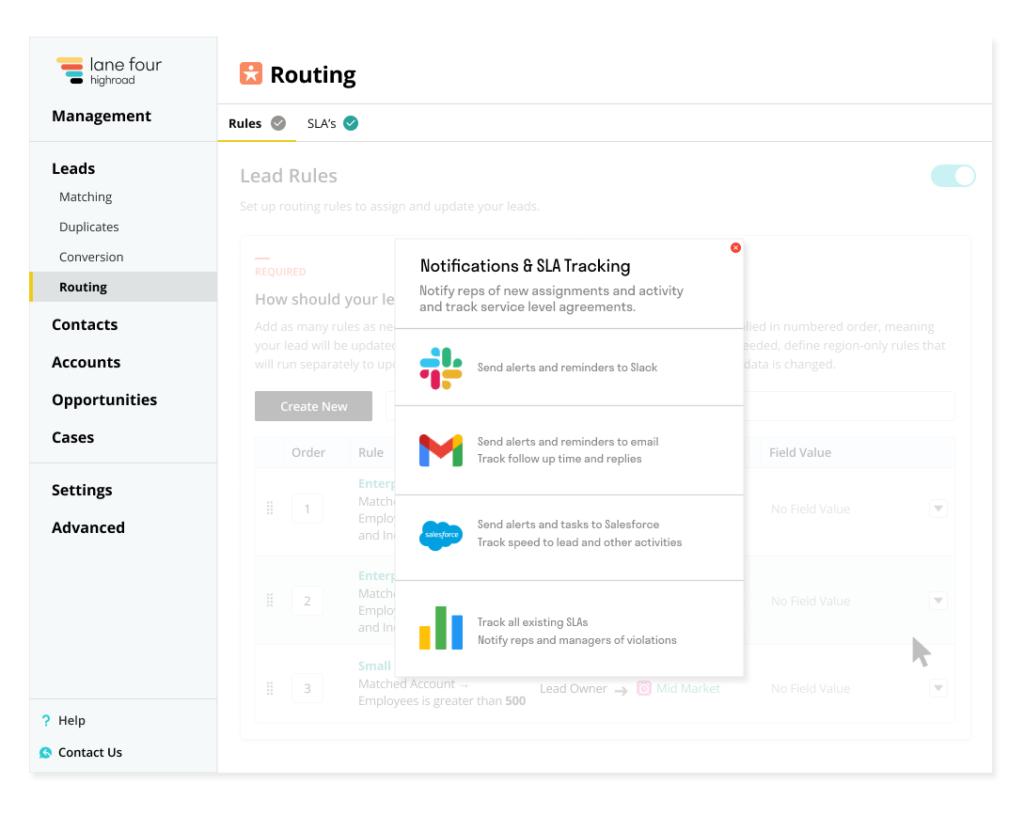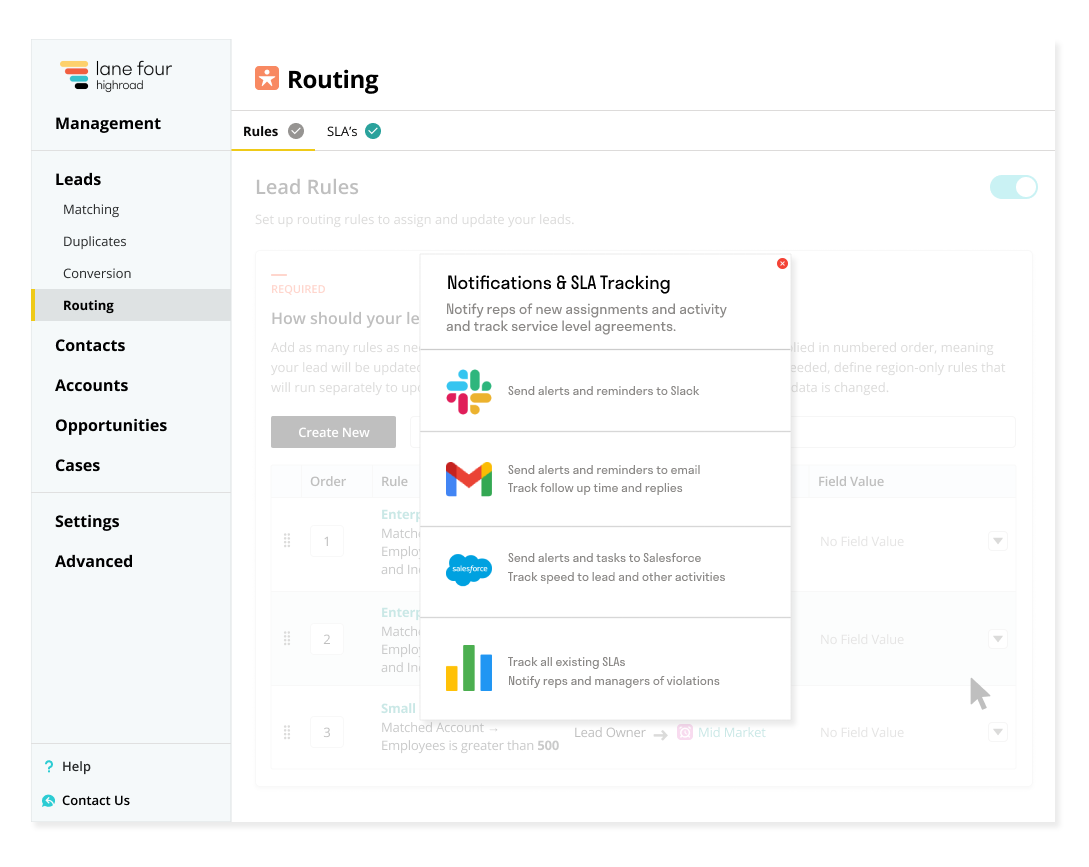 Never miss another opportunity
Stop opportunities from slipping through the cracks with notifications and service level agreement tracking.
Alert reps through email, Salesforce Tasks, and Slack. SLAs track speed to lead, keep reps motivated, and help managers measure performance.
Say goodbye to disputed leads
Advanced territory management and smarter round robins. Leads and opportunities are always distributed fairly to your sales teams based on your preferences.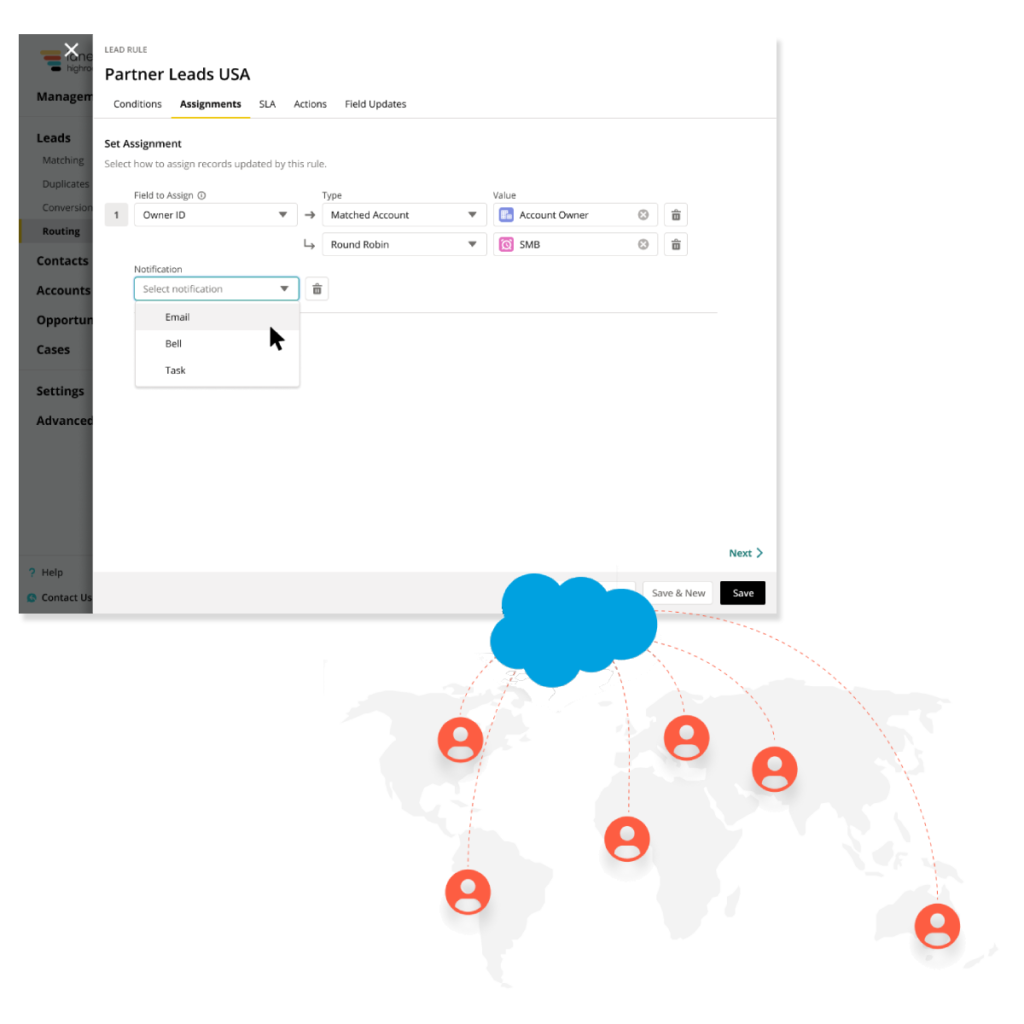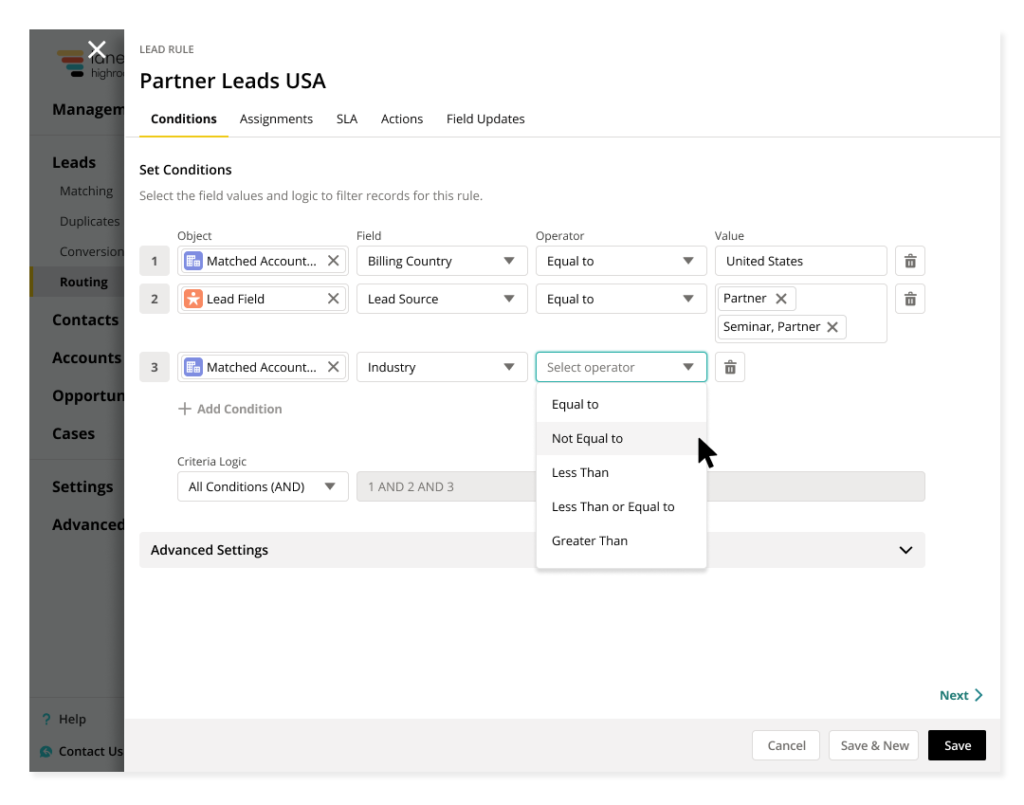 Easy to implement and manage
No more waiting on Salesforce admins to make changes. Sales leaders can quickly set up and manage their team's lead routing rules.
You made it this far. Might as well see what the fuss is about!  

Connect with your existing tools
The world's fastest-growing companies use lead routing and matching software